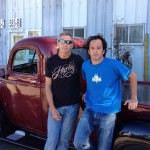 Ding King is San Diego's oldest and most reliable surfboard repair facilitiy, and the most experienced SUP paddle board service facility in San Diego. Established in North County San Diego during the early 70's by the world's original Ding King 'Buttons Humphrey', it is now owned and operated by Brian Szymanski, a traveling surfer, shaper and waterman who has a unique ability to understand your surfboard and SUP repair needs.
Why Ding King for surfboard repair?
With over 25 years of board building experience Brian has worked his way to become one of the top paddleboard builder/designers as well as a world class surfboard shaper.
Knowing you are in good hands when visiting Ding King, you can expect quality work which is guaranteed for your surfboard repair, SUP, or paddle board repair and kayak repair. The Ding King crew can repair all types of boards including epoxy, carbon and wood surfboards and the Ding King are to go-to experts for stand up paddleboard repair (SUP repair) in San Diego!
If you need a surfboard or SUP repair done properly and on time,  you have come to the right place.
Give us a call: (760) 753-0316
Visit us: 585 Suite A Westlake Drive, Encinitas Ca. 92024
Hours: 10AM-6PM Monday – Friday | 9AM-12PM Saturday
Testimonials
A great product and/or service is one segment to a great business while problem resolution/customer service is another. I had a minor problem and the owner Brian stepped in and went above and beyond what was necessary and I couldn't be happier. Customer for life. Thank you!

Mike W

/

2

Seem to visit this place frequently due to kooks who shouldn't be at point breaks dropping in on me. But every time I go to Ding King they make it very simple.. drop your board off, show them the repair spot, give them your info,get you quote and wait for a call. They seem to over quote on ETA's but I think it makes it more exciting when you find out your board is done earlier than expected! I had a fin box replacement recently and it cost $40. I think that is fair considering the whole fin box was knocked out at Uppers! Good vibes and Great people here.

Trevor C

/

Absolutely stoked on these guys. Brought in two boards; a brand new epoxy thruster and my favorite poly thruster. The epoxy was brand new and suffered a hole punch in the nose after getting tangled up with another board. The poly had a cracked rail from a similar incident. Not only did they fix both up ahead of schedule, they did so with the utmost attention to detail and quality. They did a decent job of matching the black rails on my epoxy and managed to completely vanish any signs of impact on my poly. Great guys doing great work! Feels good to know that the local repair shop is so on top of it. 5 stars.

Kyle M

/

The Ding King Surfboard Repair is awesome!  Been here a couple of times with great results and was back yesterday with couple more surfboards needing their expertise. The pricing is more than fair as I've done plenty of my own repairs over the years so defiantly have an appreciation for how good they are. Yesterday I had a unique request of adding a center fin box to my sons quad fin short board as he has an idea of what this will do for this board. The crew walked me through placement of the fin box and why this certain position. What was cool is all the guys in the shop were all over my son Matt's concept of what the added fin will do. Again, the price to add the box is totally fair. Highly recommend you let this group repair your rides.

Walter T

/

Had an FCS plug ripped out of my board and tot to ding king for a quick fix. Repair looks great and they had it done in two days. Couldn't ask for more.

Alex D

/